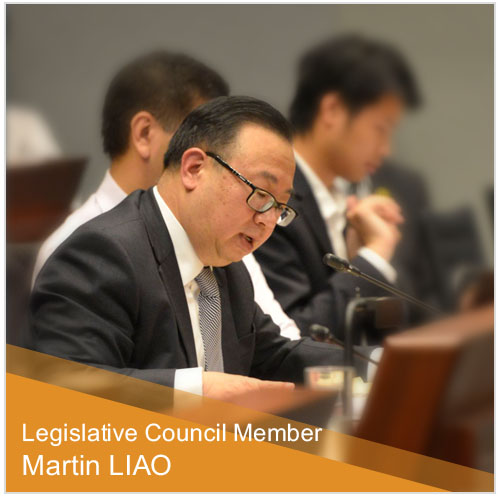 2023-03
As the frontier of exchanges between China and the West, Hong Kong is duty-bound to play the role of a "super-connector" and tell the good stories of China and Hong Kong to the outside world.
2017-05
The public look to the Government to ensure reasonable electricity tariffs, make flexible response to calls for carbon reduction, and promote the development of RE power generation with a new mindset.
2017-05
Members of the public have fallen prey to unscrupulous financial intermediaries and suffered heavy economic losses when they borrowed money from finance companies. Some elders even lost their life savings or self-occupied property. Such illegal scams are indeed intolerable.
2017-03
As this year's global political and economic situations are complex and volatile, we must be vigilant and make concrete efforts to help Hong Kong's new industries thrive.
2017-02
It is high time that the government should get a good grasp of the city's housing data and establish a comprehensive land database – an instrumental tool for formulating liveability improvement policies that can give citizens back the basic necessity of a humble home.
2017-01
If the Government considers it necessary to change the IPO mechanism, I believe that it should first regulate the impact assessment and analyze the cost-effectiveness involved, including the impact on different stakeholders such as the society, business community and regulatory bodies.
2016-12
Our students must understand both the ancient and modern history of China as well as recognize that Hong Kong and the country share the same course of history in order to strengthen their sense of belonging to the country so that they will not harbour the absurd idea that Hong Kong can be an independent sovereign state.
2016-10
Under the current political ecology, the work of the Legislative Council is increasingly difficult. Martin Liao, legislator of the Commercial (Second) Functional Constituency, is re-elected for his second term. He looks forward to ride on his four years of LegCo experience, to uphold his conviction and to serve the community.
2016-06
To truly solve the imminent needs of SMEs, the Government, lending institutions and HKMC must strengthen communication among themselves to seek consensus as soon as possible in order to mitigate the SFGS restrictions on applications and claims properly.
2016-05
For the successful implementation of the Paris Agreement, I hope that the Chief Secretary could boldly, without hesitation, lead other relevant departments to more appropriately address climate change.
2016-04
The positive approach adopted by the Policy Address that values the "13th Five-Year Plan" and the "One Belt and One Road"Initiative is going the right way. Yet, to achieve mutual benefits and shared success, it must be aligned with  development of the local financial sector. There is much room for the Hong Kong Government to improve in the bond market and on the laws and regulations for the financial technology sector.
---
---