Voice in Legco - Stop Overcharging of Commission to Strengthen Employment Protection
It is necessary for Hong Kong to safeguard the rights and interests of FDHs and their employers. This will not only help get rid of allegations that Hong Kong's FDHs are in debt bondage, but also maintain the competitiveness of Hong Kong's FDH market in the international community.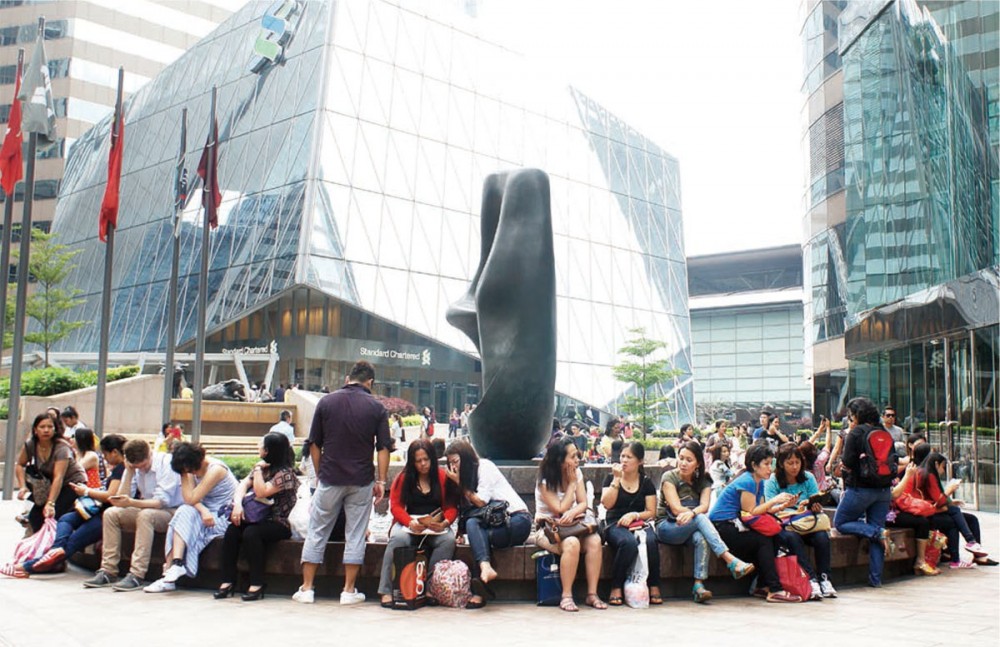 Foreign domestic helpers (FDHs) have been allowed to work in Hong Kong since the 1970s. Along with social needs, market changes and the development of employment agencies (EAs), issues such as overcharging FDHs on commissions, intermediaries giving the wrong age of FDHs and FDHs' experience not fitting the provided descriptions are commonplace. There are currently about 370,000 FDHs serving more than 280,000 Hong Kong families to take care of their elders and children. Without the help of such a huge number FDHs, a lot of working women in Hong Kong will be forced to give up their jobs. This will directly affect Hong Kong's manpower supply and even hinder its economic development.
LegCo approved higher penalties
This February, the Legislative Council adopted the amendments to the Employment Ordinance (the Ordinance) and the Employment Agency Regulations (the Regulations) put forward by the Government, which proposed extending the scope of the offense of overcharging job seekers on commissions; raising the penalties for offenses involving unlicensed operation of EAs and overcharging job seekers on commissions to a maximum fine of HKD350,000 and imprisonment for three years; providing for new grounds upon which to consider refusal to issue, renew, or revoke the license of EAs; and providing a legal basis for the Commissioner for Labour to issue codes of practice in relation to EAs. All these will help stop the improper conduct of EAs, strengthen the protection of FDHs, and enhance the professionalism of EAs.
Prosecutions reflect serious situation
At present, there are 3,023 licensed EAs in Hong Kong, of which 1,416 are providing employment services for FDHs. The Labour Department has always stressed that it cracks down hard on violations of the Ordinance and Regulations by EAs. For instance, in 2015 and 2016, it conducted 1,803 and 1,816 inspections at EAs, of which 1,348 and 1,417 were at FDH EAs, respectively. However, the number of successful prosecutions of EAs was only 12 and 8 in the two years, of which 11 and 8 were FDH EAs, respectively. Among these cases, 9 and 5 FDH EAs were each convicted for overcharging FDHs on commissions and 5 each had their licenses revoked or refused for renewal by the Commissioner for Labour. Some of the reasons include licensees overcharging commissions and unlicensed operations. Although not many prosecutions were made, the number of inspections almost covered all FDH EAs, which also accounted for 90% or even 100% of the prosecution cases. It is evident that the situation is serious.
Effectiveness of Code yet to be seen
The Labour Department also promulgated the Code of Practice for Employment Agencies (the Code) in January 2017. Up till today, one year after it came into force, two EAs have been given written warnings by the Labour Department for alleged involvement in job seekers' financial matters. It is a pity that the Labour Department did not manage to contact the job seekers for further action. Another EA had its license revoked for keeping FDHs' passports without their consent. The Labour Department also issued a total of 12 written warnings to EAs that violated the Code.
However, are violations of the Code limited to these cases only? According to a random survey conducted by the Consumer Council late last year, of the 33 local FDH EAs responded, 29 said that they rely solely on overseas partners to verify the qualifications and work experience of FDHs, and one even said that it does not conduct any checks. In another case, an FDH who claimed to understand Mandarin failed to live up to the claim after she was hired and came to Hong Kong. These cases show that although the Code requires EAs to verify the information provided by job seekers and employers, many cases of violation may still not be uncovered.
Cast off allegations of debt bondage on FDHs
Although the effectiveness of the Code is yet to be seen, many EAs hope that it will give them a professional image and help both employers and employees establish more lasting and harmonious relationships. They also made some suggestions, like requesting the Immigration Department to appropriately expedite the approval of new applications, conducting sample investigations instead of the current checklist-based inspection of FDH EAs, and helping to develop more FDH markets to meet society's need. It is hoped that the Government would actively follow up, rather than simply requiring them to comply with the Ordinance and the Code, while ignoring their business needs and market development needs.
FDHs in Hong Kong have left their hometown and are living under somebody else's roof. Most of them may not be fully aware of the legal rights and interests entitled to them in Hong Kong. Without such knowledge and afraid of losing their job, they may easily fall prey to unscrupulous EAs and be overcharged commission. It is necessary for Hong Kong to safeguard the rights and interests of FDHs and their employers. This will not only help get rid of allegations that Hong Kong's FDHs are in debt bondage, but also maintain the competitiveness of Hong Kong's FDH market in the international community.
This is a free translation. For the exact meaning of the article, please refer to the Chinese version.
Should you have any comments on the article, please feel free to contact Mr Martin Liao.
Address : Rm 703, Legislative Council Complex, 1 Legislative Council Road, Central, Hong Kong Tel : 2576-7121
Fax : 2798-8802
Email:
legco.office.liao@gmail.com
---
---