Voice in Legco - Integrate into "Dual Circulation" for Win-Win Outcome
Hong Kong's interdependence with the motherland means that China's "dual circulation" strategy has far-reaching implications for it. Hong Kong should seize the opportunity to fully leverage its unique strengths under "One Country, Two Systems" to actively integrate into the country's new development paradigm in the new situation.
"Dual circulation" is about accelerating the construction of a new development paradigm with domestic circulation as the mainstay and domestic and international circulations reinforcing each other. It aims to unleash the potential of domestic demand, leading and creating new demand with innovation-driven and high-quality supply to make the construction of a large-scale domestic market a sustainable process and to make domestic circulation the main source of driving force for the sustainable development of the domestic economy, while implementing a high-level opening-up to the rest of the world to provide the world with broader market opportunities and shape China's new advantages in participating in international cooperation and competition, thus building a new win-win paradigm for extensive consultation, joint contribution and shared benefits to stimulate global economic recovery.
Overcome Hong Kong's development bottleneck through the new paradigm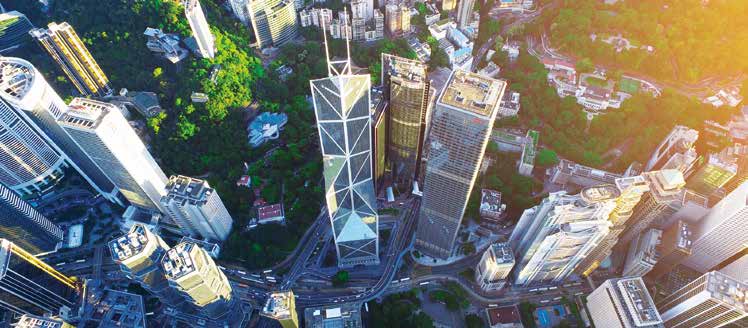 Undoubtedly, constructing the new "dual circulation" development paradigm is a systematic deep-level reform of the country. How much do Hong Kongers know about this new national strategy? How should Hong Kong anchor its position in the new situation to leverage its institutional strengths under "One Country, Two Systems" to actively engage in the construction of this new development paradigm, thereby overcoming its own development bottleneck? How should the HKSAR government make the general public embrace these opportunities to find a development path that suits them? All of these require the HKSAR Government to play a leading role in providing appropriate support and connections to make things happen.
"Dual circulation" is bound to be a strategic initiative for Hong Kong's future as it is closely linked with the motherland. The COVID-19 pandemic has greatly accelerated the changes in the world and intensified the trend of deglobalization, leading to reshuffling of industrial chains and significant shrinking of international trade and investments. According to figures from the Organization for Economic Cooperation and Development (OECD), global foreign direct investment fell sharply last year by nearly 40% year-on-year, with China being one of the few major economies that grew against the trend. At the same time, protectionism and unilateralism were prevalent in some countries, leading to rising geopolitical risks. Some countries, in order to curb China's economic growth, were constantly finding excuses to flagrantly interfere in China's internal affairs and imposed "sanctions" that are not in line with international law. Hong Kong is not immune to the rivalry between major powers, so "dual circulation" will be a pathway for it to "open up a new horizon in the midst of changes".
Looking at the laws of economic development of any major country, it usually involves a gradual shift from an outward-oriented development model to an inward-looking one. China has entered a stage of high-quality development after years of rapid exports-driven growth. Moreover, it has the world's largest industrial system. It also has a super-large domestic demand market of 1.4 billion people, including over 400 million in the middle-income group. It is evident that our country is in the stage of rapid development of new industrialization, information technology application, urbanization and agricultural modernization, so there is a huge potential for investment demand.
Embrace "dual circulation" development opportunities through Greater Bay Area
The Guangdong-Hong Kong-Macao Greater Bay Area ("Greater Bay Area") is undeniably the best entry point for Hong Kong to participate in "domestic circulation". Hong Kong's pillar industries will have a big part to play, while its emerging and I&T industries will be in their element, so they can complement the industries in the Greater Bay Area to develop AI, biomedical technology and other industries to boost economic transformation. Various industries such as cultural creativity, higher education, personnel training and medical care, as well as high-quality Hong Kong brands, can also grow rapidly in this big market. Furthermore, as an international financial, shipping, commerce and trade center and a global offshore RMB business hub, Hong Kong is at the intersection of domestic and international circulations in the "dual circulation" development paradigm. As such, it can connect with regional economies such as ASEAN, the Regional Comprehensive Economic Partnership (RCEP) and the "Belt and Road", leveraging its strengths under "One Country, Two Systems" to strive to become a "dual circulation" hub.
Certainly, constructing the "dual circulation" paradigm still needs a lot of groundwork, and various bottleneck and institutional barriers also have to be addressed. One of the areas Hong Kong should focus on is to drive the financial sector to better serve the real economy and build a sound modern circulation system, leveraging the pivotal role of the capital markets in promoting the high-standard circulation of technology, capital and the real economy. Hong Kong has a crucial role as it is not only one of the world's three major financial centers, but also China's international financial center. It can strengthen cooperation with the Mainland in areas such as innovative finance, Silk Road finance, people's livelihood finance and green finance, promote in-depth integration of innovative technology and innovative finance, drive the rapid development of initial public offerings, wealth management and the RMB offshore market, and boost the internationalization of the RMB. In addition, under the new "dual circulation" development paradigm, the strategic role of the digital RMB will become even more important, and the Greater Bay Area has been designated as one of the pilot sites. Hong Kong can act as a "vanguard" for the digital RMB to go global, while promoting the digital transformation of its financial sector.
Young people should avoid misunderstandings
Looking to the future, I hope that Hong Kongers, especially young people, will realize the importance of "dual circulation" to Hong Kong's future development and look farther so that misunderstandings and prejudices will not hinder them from pursuing their dreams in the Mainland. China is a major engine leading the global economic recovery. To boost its post-pandemic economy, Hong Kong must integrate more deeply into the country's overall development to make its economic recovery faster and more stable.

This is a free translation. For the exact meaning of the article, please refer to the Chinese version.
Should you have any comments on the article, please feel free to contact Mr Martin Liao.
Address : Rm 703, Legislative Council Complex, 1 Legislative Council Road, Central, Hong Kong Tel : 2576-7121
Fax : 2798-8802
Email:
legco.office.liao@gmail.com
---
---