Voice in Legco - Promote Hong Kong as a Regional Center for Professional Services
In today's increasingly uncertain world, Hong Kong's professional services should capture the valuable opportunity to actively integrate into the national development blueprint, showcasing its strengths to become a regional center for professional services.
Hong Kong is a platform for attracting foreign investments and going global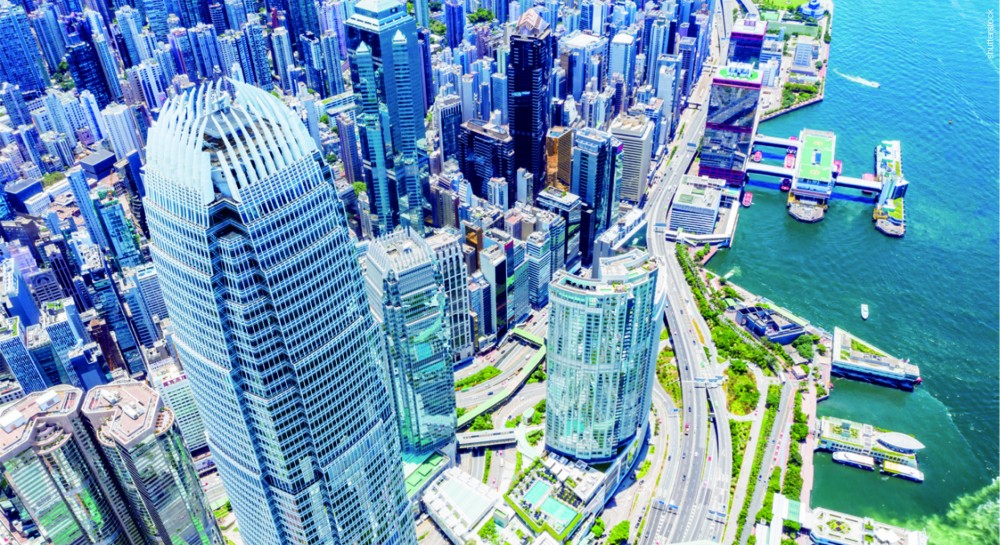 Under the principle of "One Country, Two Systems", Hong Kong has a free and open economic system as well as a transparent and effective common law system. Moreover, its professional services are competitive as they adhere to international standards. Professional services and other business support services, as one of Hong Kong's four pillar industries, employ about 570,000 people and contribute around 12% of its GDP. Over the decade from 2009 to 2019, Hong Kong's professional service industry grew cumulatively by 7%, which is higher than the 5.6% growth of the city's GDP. In today's increasingly uncertain world, Hong Kong's professional services should actively integrate into the national development blueprint, showcasing its strengths to become a regional center for professional services.
Backed by the motherland and geared to the world, Hong Kong has become a gateway for foreign investments to enter Mainland China and a platform for Mainland enterprises to go global. Hong Kong has been the largest source for bringing capital and technology into the Mainland in China's 40 years of reform and opening-up. In addition, about 70% of the total amount of foreign direct investment flowing into China from 2014 to 2019 was channeled through Hong Kong. Regarding "going global", supported by the strong resilience and vitality of its capital-raising markets, Hong Kong has ranked as the world's top financing venue in six of the last ten years. It has also kept pace with the times and embraced innovation to develop into Asia's largest and the world's second largest fund-raising center for biotech companies. Despite the impact of the COVID-19 pandemic on the global economy and capital raising, 119 Mainland companies were listed in Hong Kong in 2020. As of 2020, about 2,000 Chinese-funded enterprises have set up companies in Hong Kong, of which nearly 600 have Hong Kong as their regional headquarters and regional offices, an increase of over 60% from three years before.
Seek opportunities in key national strategies
Regarding China's foreign strategy, President Xi Jinping put forward the "Belt and Road" Initiative (B&R) in 2013. Since then, 171 countries and international organizations have signed 205 cooperation documents with China, covering a very wide range of projects. In this regard, Hong Kong's highly internationalized, high-standard and nimble professional services can provide a diverse range of high-standard support services for these B&R projects, including financing, accounting, infrastructure planning, design, construction and management, insurance and risk management, legal and dispute resolution, etc.
While Hong Kong has top world-class professional service talents with extensive knowledge, experience and international connections, the Government should support the industry in entering emerging and other potential markets to tap into business opportunities. The Government has launched a slew of policies, including a further injection of HKD1.5 billion into the Dedicated Fund on Branding, Upgrading and Domestic Sales, and extension of its geographical scope to cover some countries along B&R, as approved by the Legislative Council Finance Committee in April. This year, Hong Kong has received the country's support to strive to become one of the first economies joining the Regional Comprehensive Economic Partnership (RCEP). With regard to establishing interconnectivity partnerships with countries along the B&R, Hong Kong's professional services can assist the country in facilitating "hard connectivity" of infrastructure and "soft connectivity" of rules and standards. For establishing partnerships for green development, the Government's experience in issuing green bonds can be drawn upon to strive for Hong Kong to become a green financial center.
Regarding the country's internal development, following the promulgation of the Outline Development Plan for the Guangdong-Hong Kong-Macao Greater Bay Area in 2019, the Outline of the 14th Five-Year Plan for the National Economic and Social Development and the Long-Range Objectives Through the Year 2035 announced in March this year further encourages Hong Kong to integrate into the country's overall development landscape and improve the external and internal "dual circulation". Destined for great prospects, Hong Kong's professional services not only can continue assisting Mainland enterprises in "going global", but also partner with high-value industries in the Greater Bay Area for in-depth collaboration and connectivity among industries. A key focus in the future is how to capture the business opportunities in the country's new round of pilot program to encourage service industries to open wider to the rest of the world. As the country adopts the highest level of opening-up to Hong Kong, it allows Hong Kong's service industries to invest in Internet data centers and set up wholly-owned medical institutions in the Mainland. These are both opportunities and challenges. Hong Kong's professional services must not only continue improving their quality and keep upgrading, but also establish and promote the Hong Kong brand of professional services.
Expand the market for win-win outcomes
In addition, it is necessary to continue deepening service cooperation through CEPA and further improve the mechanisms for mutual recognition of professional qualifications and enterprise qualifications between the two places, making the market bigger for win-win outcomes. For young professional talents, the Government can emulate the Greater Bay Area Youth Employment Scheme by providing industry internships or short-term job secondments in the Greater Bay Area to strengthen mutual understanding and acceptance, and permit recognition of relevant work experience in Hong Kong.
As a highly open economy, Hong Kong is deeply integrated into the country's development and the world economy. Hong Kong's development as a regional center for professional services not only will help Hong Kong get out of the economic fallout due to social unrest and the COVID-19 pandemic in the short term, but is also about Hong Kong's long-term integration into the country's "dual circulation" to promote the upgrading of modern service industries in line with traditional industries, as well as to facilitate the development of emerging industries.

This is a free translation. For the exact meaning of the article, please refer to the Chinese version.
Should you have any comments on the article, please feel free to contact Mr Martin Liao.
Address : Rm 703, Legislative Council Complex, 1 Legislative Council Road, Central, Hong Kong Tel : 2576-7121
Fax : 2798-8802
Email:
legco.office.liao@gmail.com
---
---