CGCC Hosts Hong Kong Summit 2022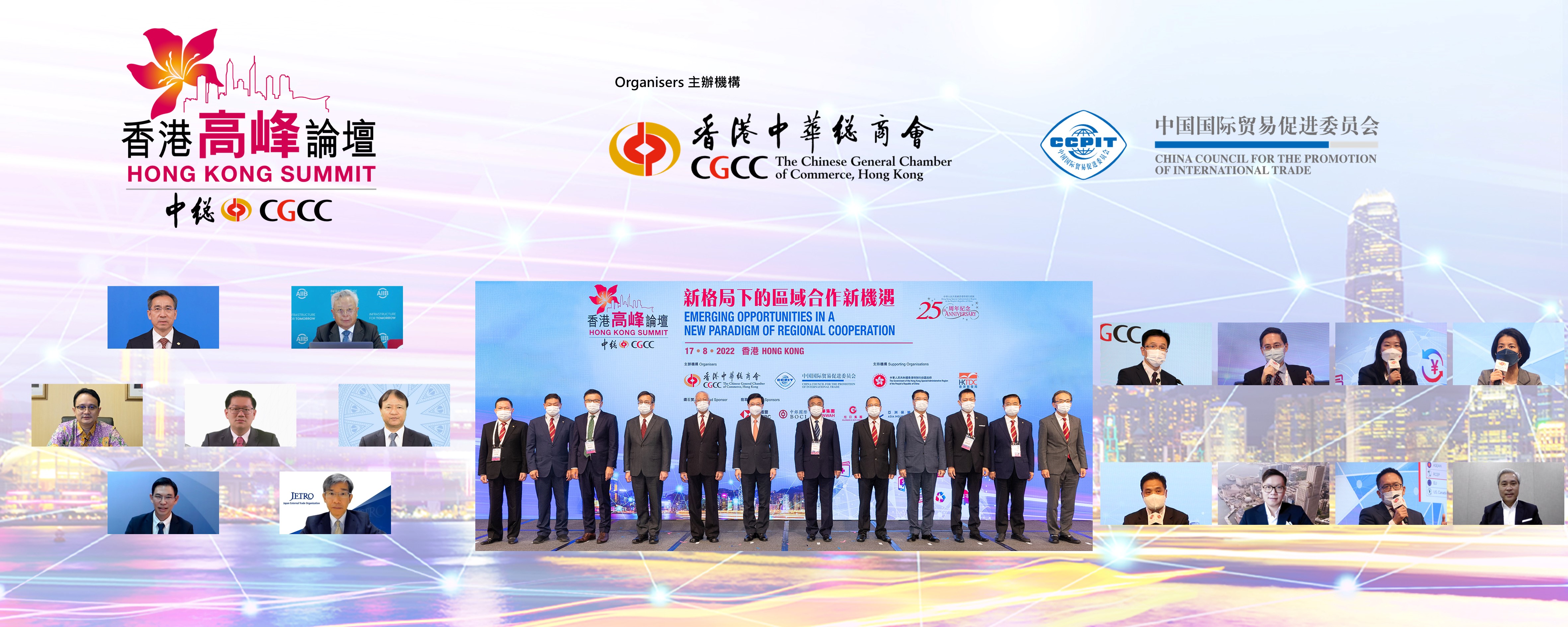 香港中華總商會聯同中國國際貿易促進委員會舉辦「香港高峰論壇2022」。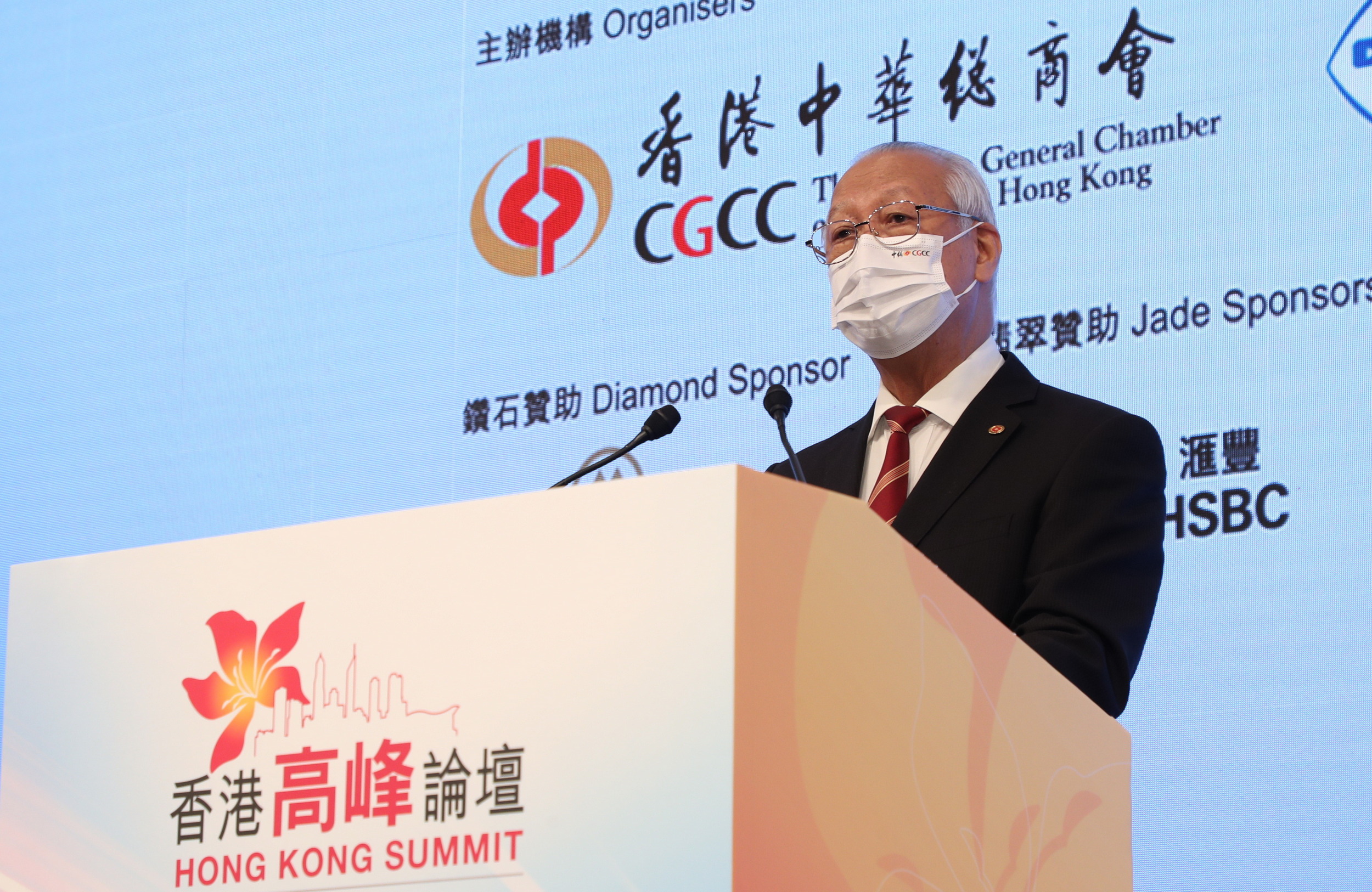 中總袁武會長致辭。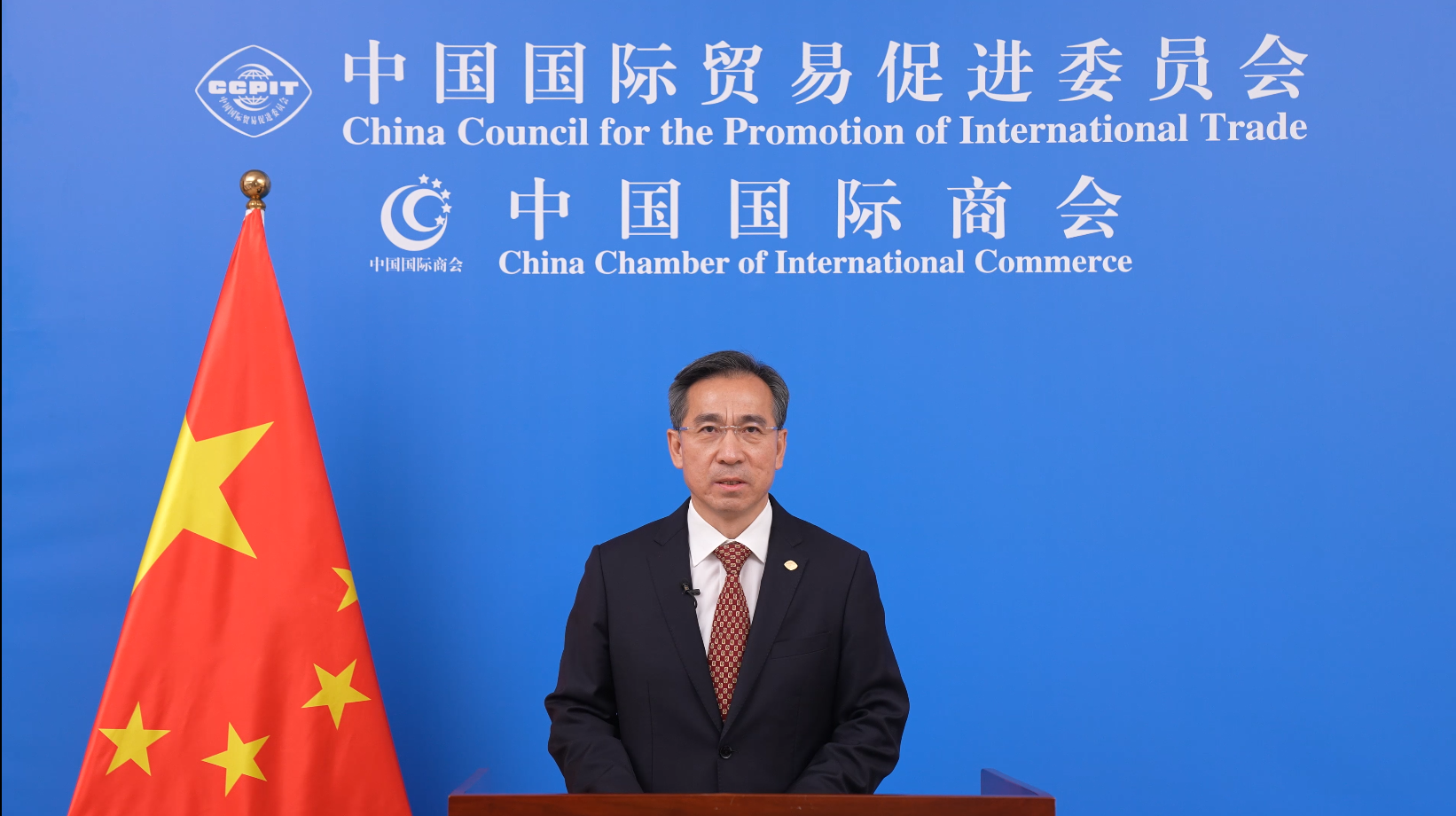 貿促會任鴻斌會長致辭。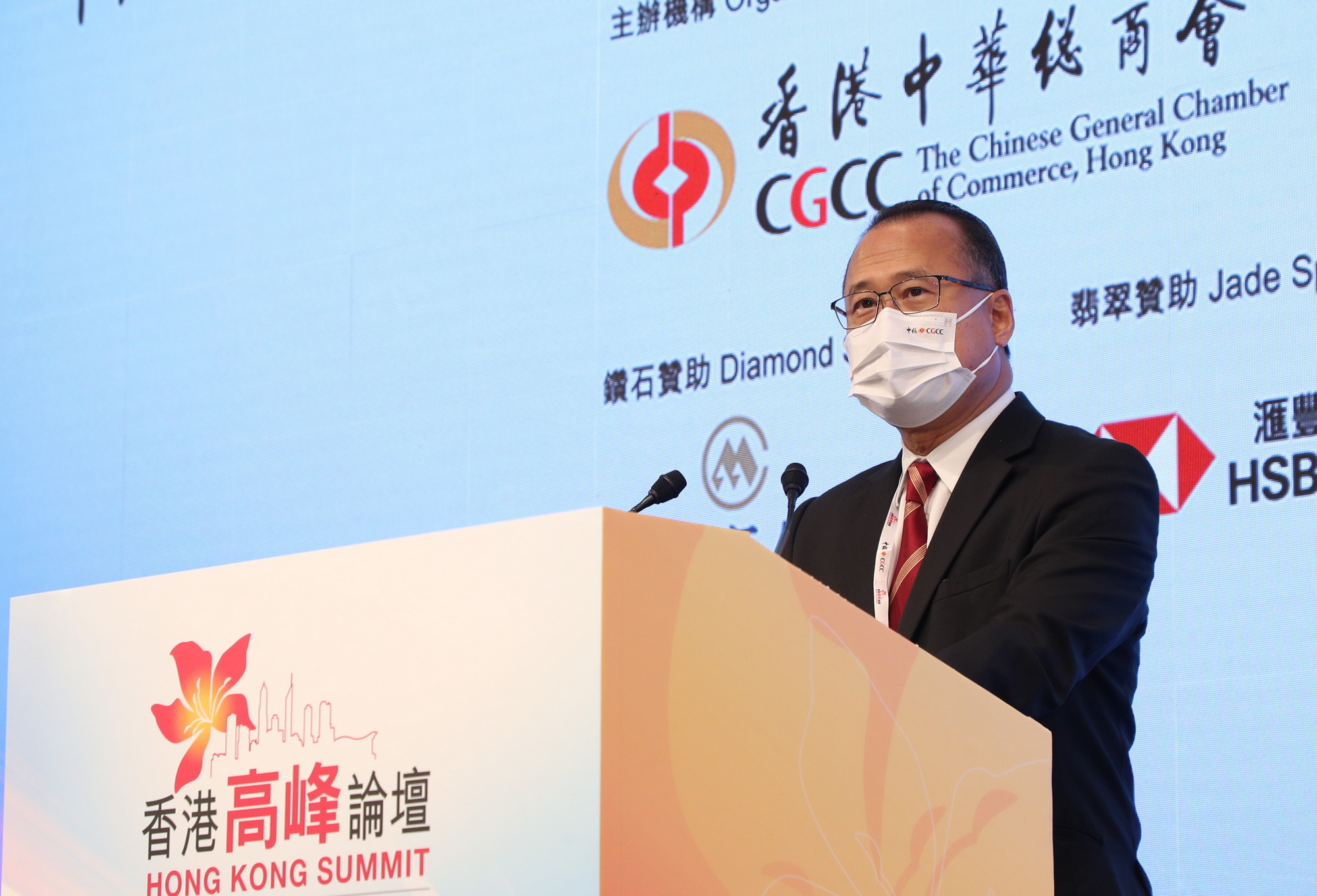 中總永遠名譽會長、論壇主席蔡冠深致辭。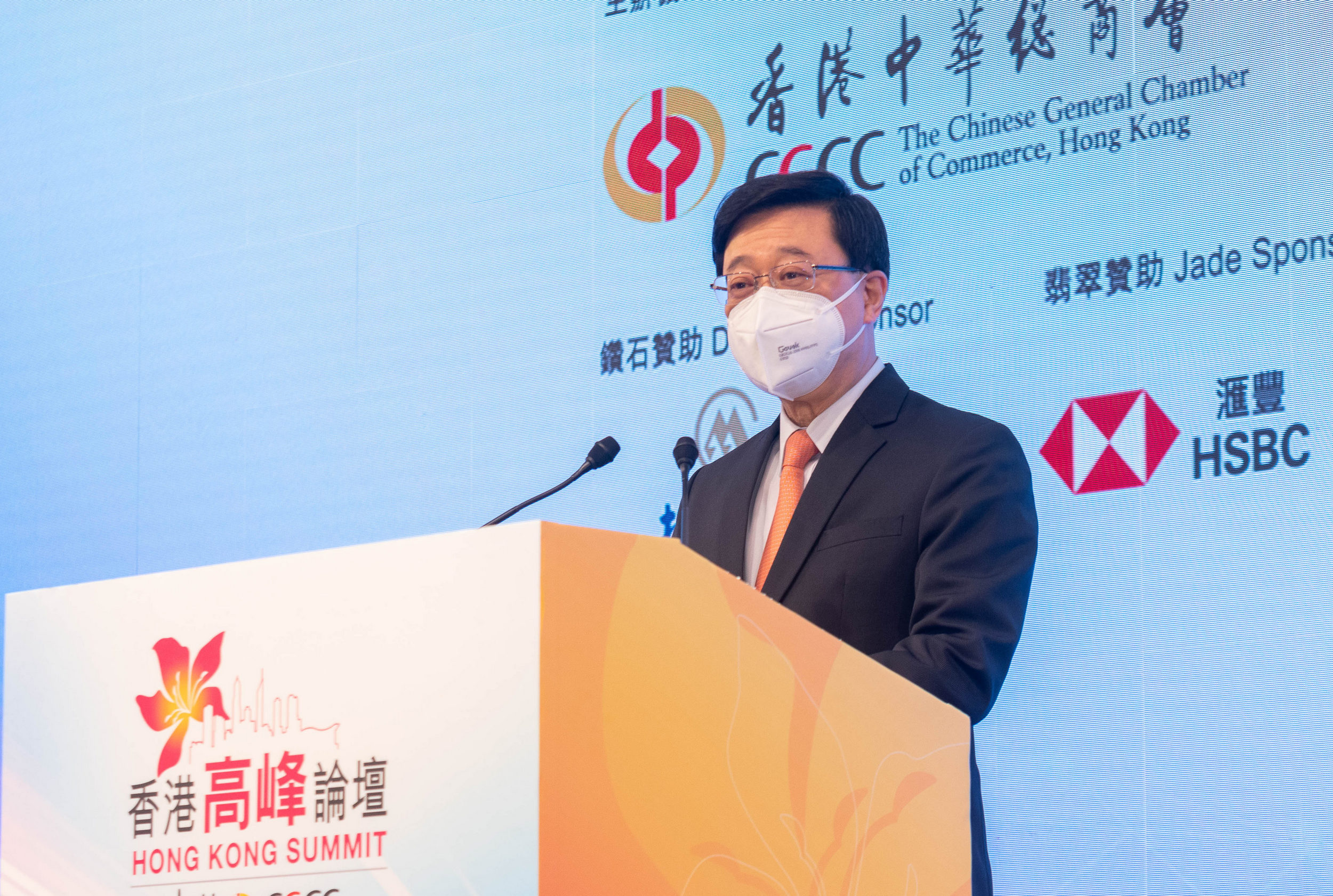 香港特別行政區行政長官李家超先生擔任主旨演講嘉賓。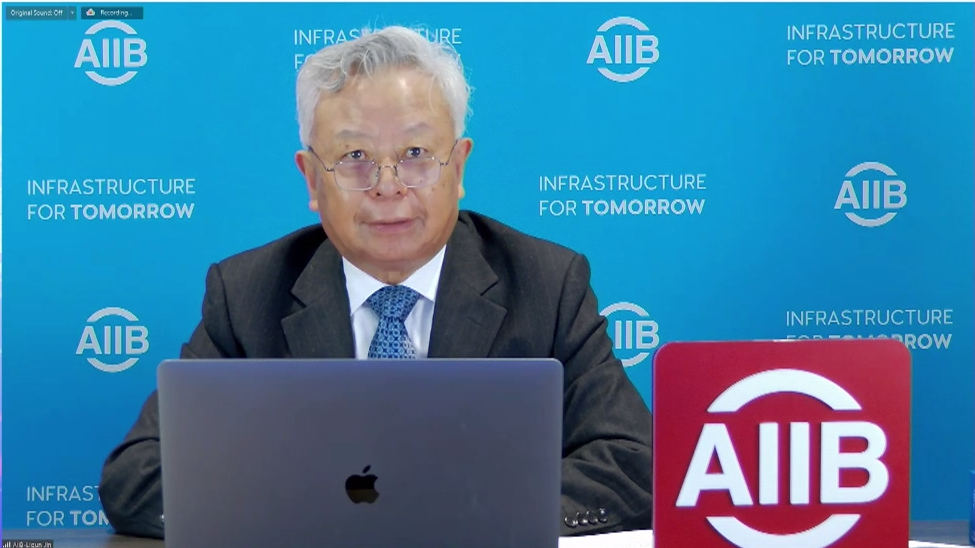 亞洲基礎設施投資銀行行長兼董事會主席金立群先生擔任主旨演講嘉賓。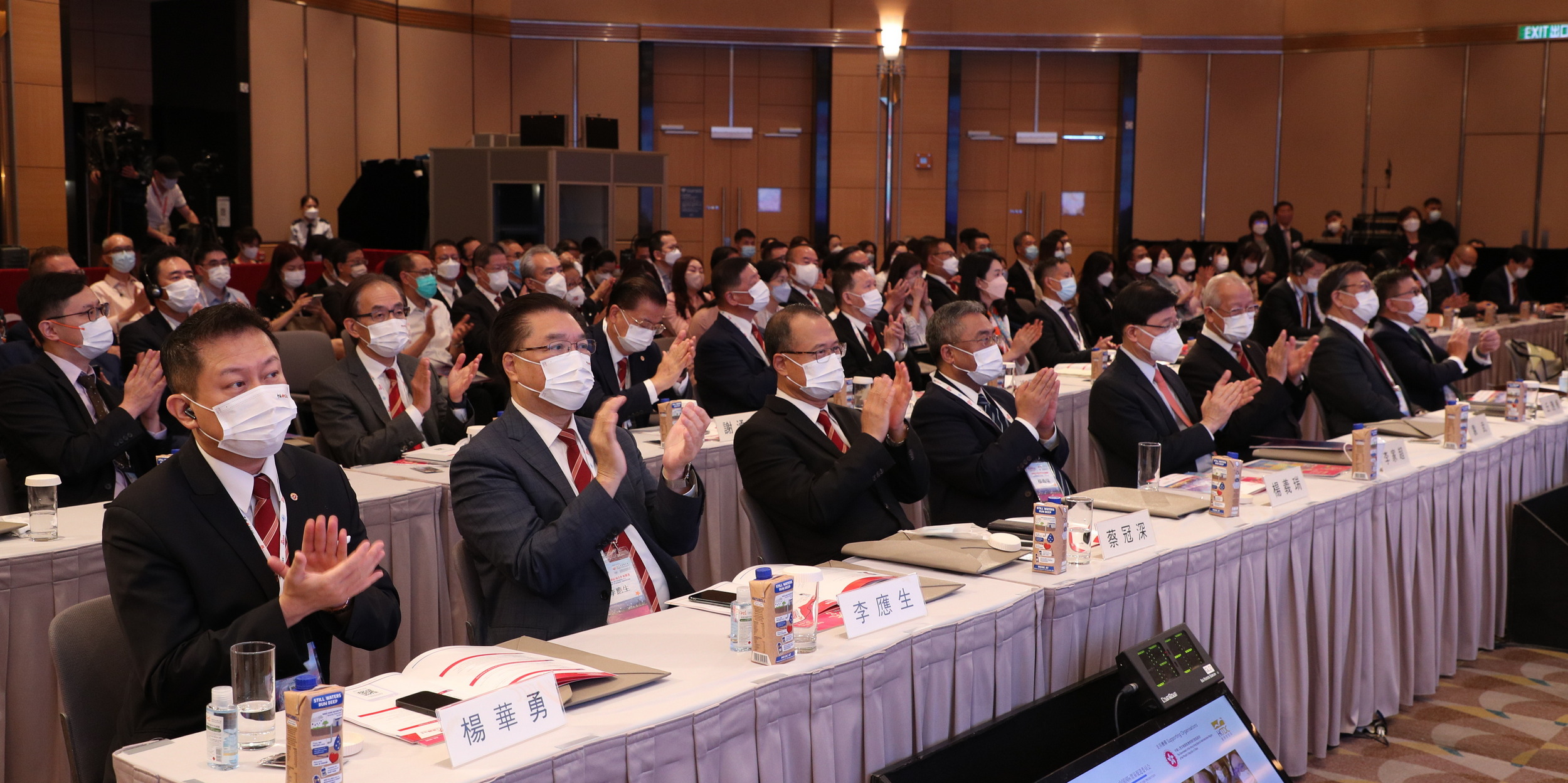 「香港高峰論壇2022」現場盛況。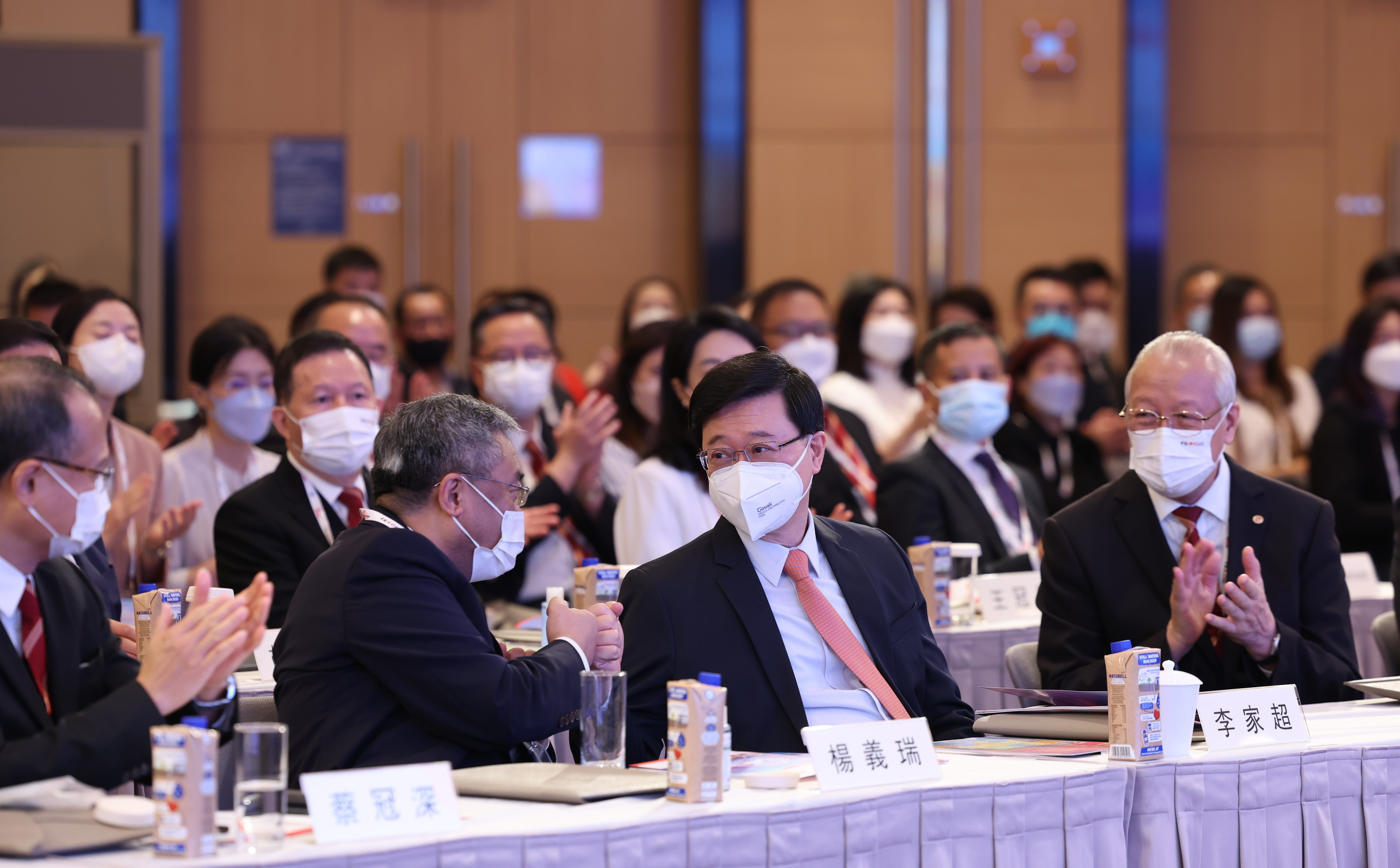 「香港高峰論壇2022」現場盛況。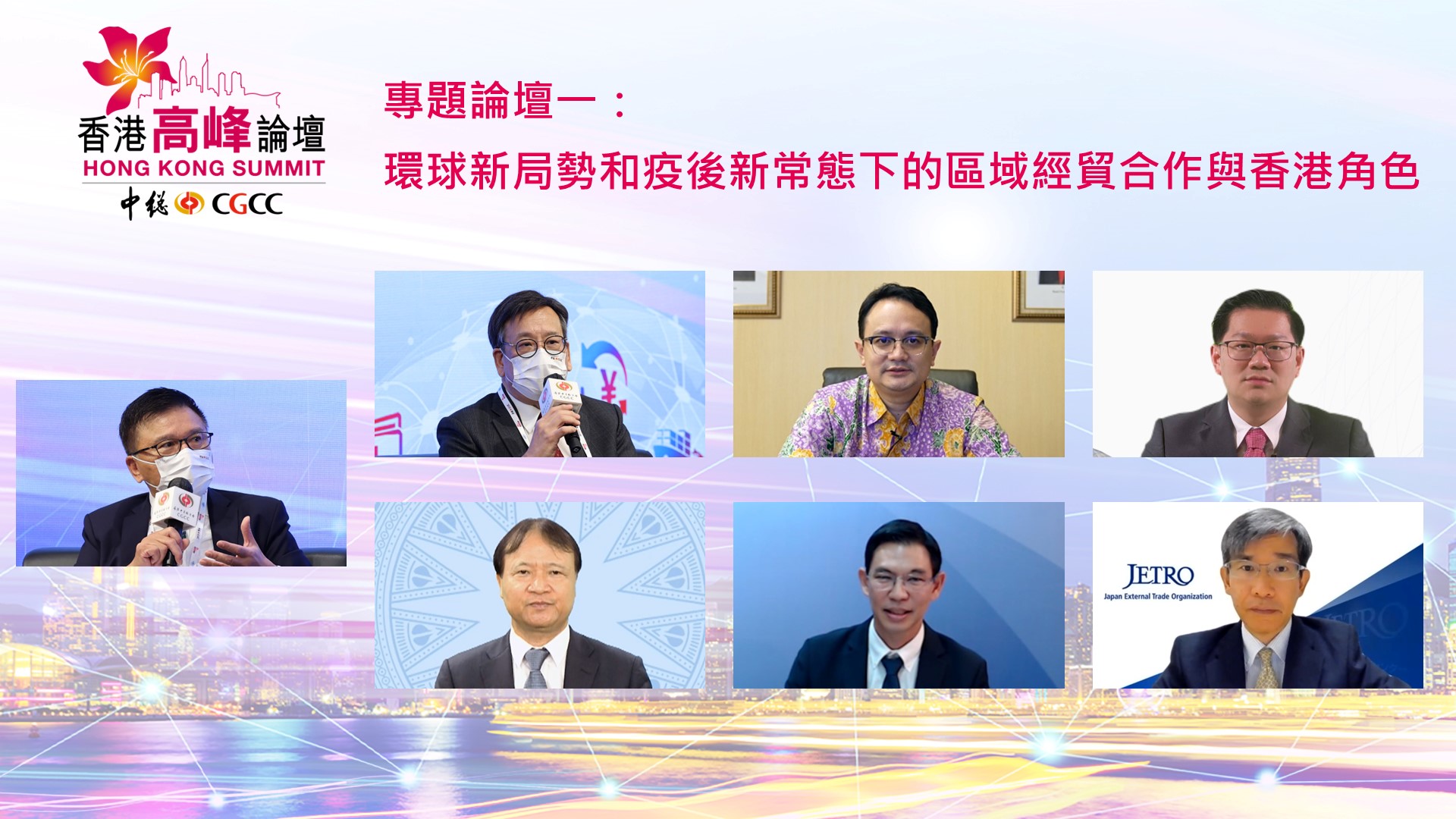 論壇設兩個專題演講環節。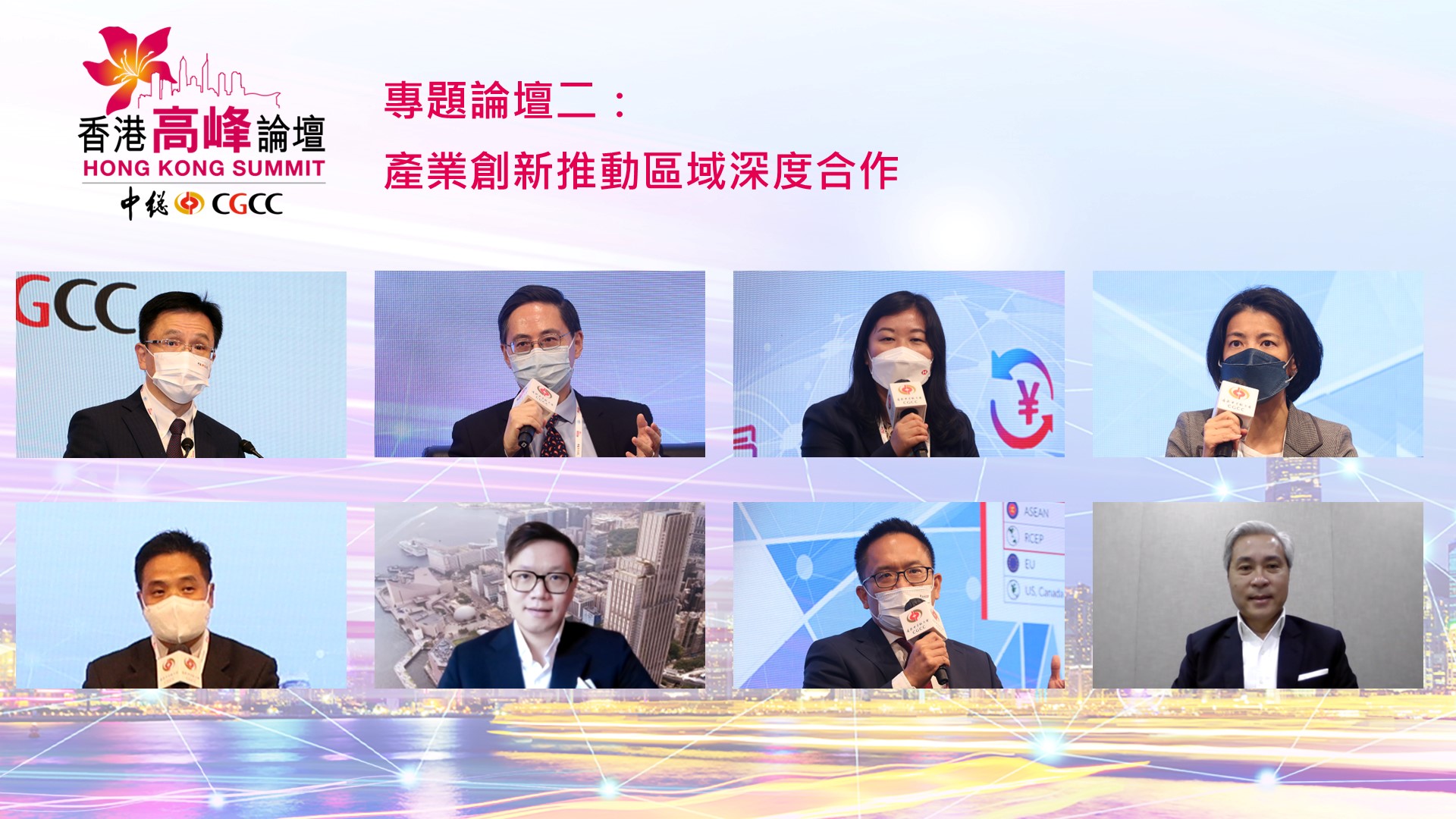 論壇設兩個專題演講環節。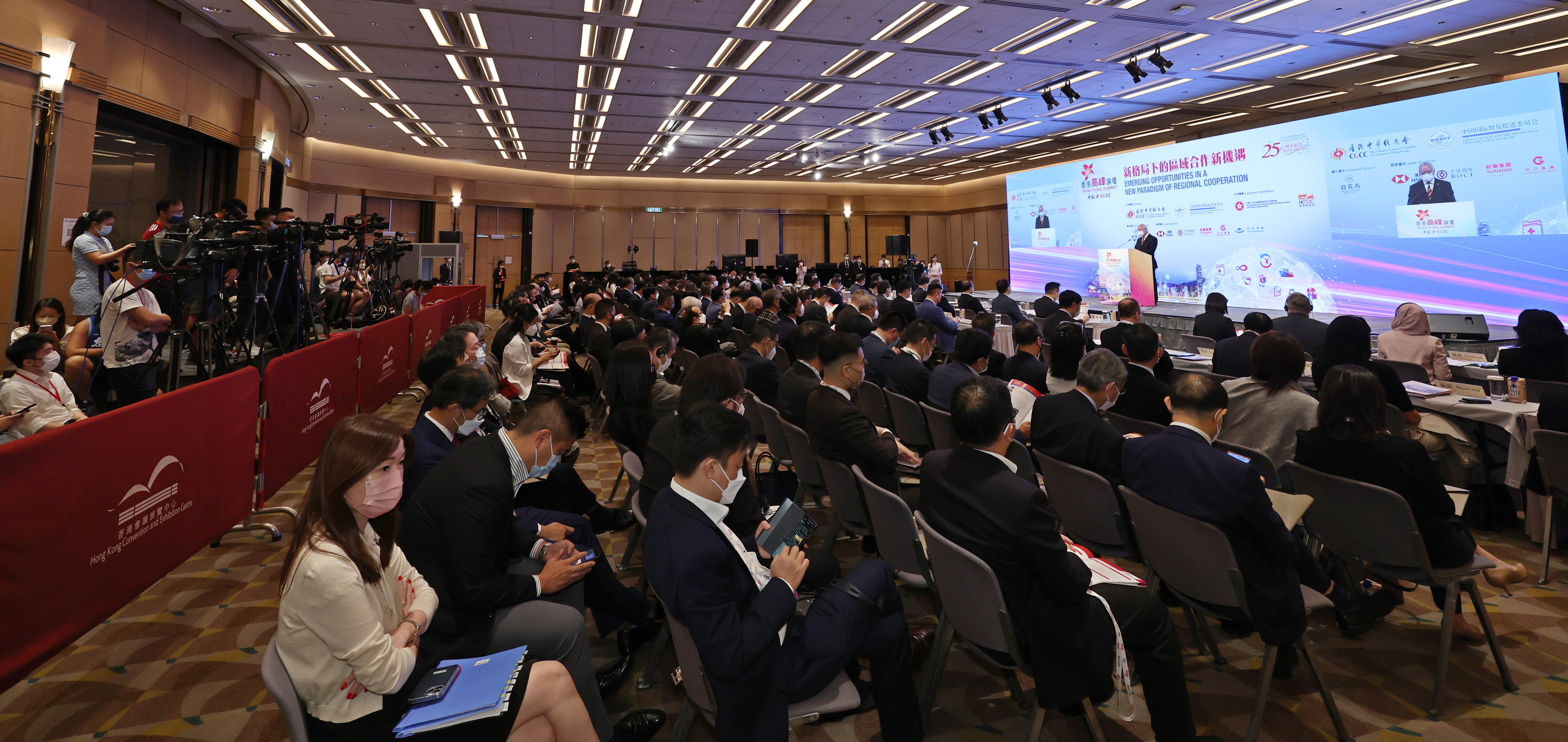 論壇設線上同步直播,線上線下共逾1,000人。
Previous
Next
CGCC Hosts Hong Kong Summit 2022
Exploring Emerging Opportunities in a New Paradigm of Regional Cooperation
The Chinese General Chamber of Commerce in Hong Kong (CGCC) and the China Council for the Promotion of International Trade (CCPIT) co-hosted the Hong Kong Summit 2022 (Summit) today (17 August). The Summit, with the theme of "Emerging Opportunities in a New Paradigm of Regional Cooperation", brought together several ministerial-level officials from the Mainland and East Asian countries, principal officials of the HKSAR Government, and local and East Asian business leaders, experts and scholars to jointly analyse the current global political and economic situation and the latest regional economic developments in the post-epidemic period, especially the prospects and opportunities for regional cooperation in the context of mainland China actively advancing its "dual circulation" strategy, and to discuss how to further promote industrial innovation and in-depth cooperation in the region through Hong Kong's unique role. John Lee, Chief Executive of the HKSAR, and Yang Yirui, Acting Commissioner of the Ministry of Foreign Affairs in the HKSAR, attended the event as guests of honour.
Hong Kong can play an important role as a bridge
In his opening speech, Yuen Mo, CGCC's Chairman, said that China's advancement of the new "dual circulation" development paradigm and deepening of regional cooperation via the Guangdong-Hong Kong-Macao Greater Bay Area (Greater Bay Area) development strategy and the "Belt and Road Initiative" (B&R) are giving important support for Hong Kong, the Mainland and the neighbouring regions to deepen economic interaction. The Central Government fully supports Hong Kong in its efforts to fully implement "One Country, Two Systems", to keep its business environment free and open, and to expand and facilitate its exchanges with the world, so as to further consolidate and deepen its role as a "super connector" between the Mainland and the rest of the world. Ren Hongbin, Chairman of the CCPIT, believes that Hong Kong can play its unique role in leveraging the Central Government's policies and measures to build a platform for economic and trade cooperation between the two places, and combine with the construction of Hong Kong's Northern Metropolis and the Hong Kong-Shenzhen Innovation and Technology Park to facilitate innovative cooperation in various fields and drive Hong Kong's better integration into national development, providing impetus for Hong Kong's economic transformation to achieve better development.
Jonathan Choi, CGCC's Permanent Honorary President and the Summit's Chairman, stressed that Hong Kong should actively leverage its unique strengths in finance, professional services, and innovation and technology (I&T) to enhance the "C.I.O.2.0" function in promoting regional cooperation, that is, to further enhance its role as a connector, investor and operator in the region to drive industrial cooperation. In particular, Hong Kong can serve as a bridge for trade and investment between the Greater Bay Area and ASEAN and neighbouring economies. He looks forward to Hong Kong joining the RCEP as soon as possible to promote the further integration of regional industrial chains, helping Mainland and overseas enterprises explore greater market opportunities.
John Lee: Leverage Hong Kong's unique strengths in regional cooperation
The Summit has the honour to welcome John Lee, Chief Executive of the HKSAR, and Jin Liqun, President and Chair of the Board of Directors of the Asian Infrastructure Investment Bank (AIIB), as keynote speakers to discuss the direction of regional cooperation given the global macro situation. Lee pointed out that Hong Kong is one of the world's most open and competitive economies, and as a global city that straddles East and West, it can play a very unique connector role in regional cooperation. ASEAN is Hong Kong's second largest trade partner, and bilateral direct investment relations are also very close. Hong Kong has strong ties with RCEP member countries. President Xi Jinping stressed that the Central Government fully supports Hong Kong in its effort to expand and facilitate its exchanges with the world. The HKSAR Government will leverage the Central Government's support, especially in prioritising fighting the epidemic, ensuring Hong Kong's international competitiveness while safeguarding the health and livelihood of the public, and enhancing international connectivity while speeding up efforts to connect with the Mainland, so as to promote the sustainable and steady development of Hong Kong's economy and open a new chapter for its economy.
Jin Liqun: Hong Kong can play an important role in international connectivity
Jin said that recent geopolitical tensions, coupled with global supply chain disruptions due to the pandemic, have led some countries to advocate self-sufficiency, but he does not think this is a viable solution. Multilateralism remains very important in the new era. He specifically mentioned that Hong Kong has a close relationship with the AIIB, and as an economic and financial centre, it plays an important role in international connectivity. In particular, it can leverage its strengths in finance, the rule of law, and talents to promote cooperation with other parts of the region to open up broader space for development.
RCEP helps foster in-depth regional cooperation
The Summit featured two panel sessions. During the morning panel session, Algernon Yau, Secretary for Commerce and Economic Development of the HKSAR, Jerry Sambuaga, Vice Minister of Trade of Indonesia, Lim Ban-hong, Deputy Minister of International Trade and Industry of Malaysia, Do Thang-hai, Vice Minister of Industry and Trade of the S.R. of Vietnam, Veeris Ammarapala, Governor of the Industrial Estate Authority of Thailand (IEAT), and Isamu Wakamatsu, Director-General of the Overseas Research Department of the Japan External Trade Organization (JETRO), discussed regional cooperation in the new normal and the role of Hong Kong. Ceajer Chan, Adjunct Professor at HKUST Business School was the moderator of the session.
Participating government officials and representatives shared their views on further deepening regional economic cooperation, and discussed relevant policies and future development prospects in promoting investment and trade opening, as well as opportunities for deepening regional cooperation arising from the implementation of the RCEP. Yau said that joining the RCEP will expand Hong Kong's space for trade and promote its long-term economic development. He is pleased to see that most countries support Hong Kong's accession to the RCEP. Coupled with the Central Government's full support, he is certain that Hong Kong will play a greater role in promoting regional cooperation going forward, helping to create unlimited business opportunities. Sambuaga said that Indonesia will complete the RCEP approval process this year, and he believes that the agreement will help expand trade and investment among member countries. Indonesia welcomes Hong Kong to join the RCEP and is certain that Hong Kong can make important contributions to regional cooperation and help strengthen regional supply chains. Do agrees that strengthening regional cooperation is very important to coping with the current challenges. He suggested to ensure the smooth operation of regional supply chains, resume tourism and business activities, reinforce cooperation to promote regional trade and investment, and provide financial and technical support to SMEs.
The guests also shared their views on fostering cooperation between the Greater Bay Area and ASEAN. Lim stressed that as the Greater Bay Area strives to promote I&T, with the development of the RCEP, it can reduce transaction costs and improve efficiency, bringing huge business opportunities to companies in the Greater Bay Area and Malaysia. He hopes that through Hong Kong's business connections with the rest of the world and the strengths of Malaysia's business ecosystem, the strategic cooperation platforms provided by the RCEP and the Greater Bay Area can be used to drive further regional cooperation in the new era.
The guests recognised the importance of the RCEP in deepening cooperation in the East Asia region. Ammarapala said that Hong Kong companies have invested over USD1 billion in Thailand. Driven by the B&R and the RCEP, there will likely be wider space for cooperation between Hong Kong and Thailand. Along with the construction of Thailand's industrial villages and the Eastern Economic Corridor (EEC), it will help deepen the investment opportunities in Thailand for companies in the Greater Bay Area. Wakamatsu said that the RCEP is of great significance for Japan's economic development, as currently 60% of Japanese companies operate in RCEP member countries. Japan will strengthen regional cooperation and create a stable business environment for companies. Japanese companies hope that Hong Kong can lift or ease travel restrictions so that cross-border flow of people and logistics between Hong Kong and the Mainland and Japan can go back to normal as soon as possible.
Industrial innovation forging in-depth regional cooperation
During the afternoon panel session, under the theme of "Industry Innovation: Forging Co-operation in the Region", representatives of companies in the finance, innovation and technology, and healthcare industries shared their views on regional industrial innovation. Stephen Wong, Member of the LegCo was the moderator of the session.
Sun Dong, Secretary for Innovation, Technology and Industry of the HKSAR Government was the thematic session speaker. He stated that the current Government will actively enhance cooperation with other Greater Bay Area cities to strengthen industrial and R&D innovation, and adopt a multi-pronged approach to enrich the pool of I&T talents. I&T not only drives new economic industries, but also promotes the upgrading and transformation of traditional industries. The recently popular NFT art creations and metaverse concerts are successful examples. The Administration will actively support the development of high-end manufacturing industries and accelerate industrial diversification to boost Hong Kong's economic growth.
Ma Jun, Chairman and President of the Hong Kong Green Finance Association, said that the Mainland has been deeply involved in G20's international cooperation in green finance. This year, the G20's framework for transition finance was established to transition high-carbon industries into low-carbon ones through advanced green technologies. The HKSAR government has also done much to promote the development of green financial markets, including issuing green bonds and introducing a large number of incentive mechanisms. In the future, it may strengthen disclosure and drive the innovation of green financial and transitional financial products.
Jing Liu, Greater China Chief Economist of HSBC Global Research, said the Mainland's digital economy has grown rapidly over the past decade, as many countries are currently pushing for the digitisation of their economies. The development of digital economy will break new grounds if technologies are effectively applied to traditional industries. Hong Kong and the rest of the Greater Bay Area can strive to promote the advancement of Industry 4.0 and actively improve related supporting facilities to further drive relevant growth.
Nisa Leung, Managing Partner of Qiming Venture Partners, said that given the Mainland's huge healthcare market, many Mainland cities are looking to becoming leaders in biopharmaceuticals. In recent years, the Mainland's innovative drugs have received recognition from major international pharmaceutical companies, and coupled with the relatively low development costs, it can help reduce treatment costs to benefit more patients. Healthcare is also an important industry in the Greater Bay Area, and many biotech companies can get listed and raise capital in Hong Kong, making Hong Kong a gateway for Mainland's medicines to enter the international market.
Don So, Head of Business Incubation at New World Development Company Limited and CEO of Humansa said that Greater Bay Area residents pay attention to the health of themselves and their families, and nearly 70% of their healthcare spending is used for disease prevention. Greater Bay Area residents are increasingly demanding more value from healthcare services, so the industry must move towards innovation, focusing on disease prevention and increasing efficiency through digitisation.
Tim Leung, Group Chief Technology Officer of Tricor Group, said that industrialisation of digital economy is a strength of Hong Kong, where AI is widely used in daily life, such as electric vehicles and smart shopping. All these are changing our way of life. At present, many jobs and services in the Mainland, including customer information and logistics data, are largely paperless and digitised. Hong Kong should make full use of AI technology, including file storage and classification or voice recognition, to further enhance the value of services.
Don Lam, CEO and Founding Partner of VinaCapital Group of Vietnam, said that Vietnam, as one of the fastest-growing economies in Southeast Asia, will herald a golden age of population and is moving towards digitisation. Amid the economic boom in Southeast Asia, Vietnam's venture capital investment industry will grow rapidly, with 60% of investments involving technology-related industries, and will more closely involve the development of I&T in the region in the future.
Hong Kong Summit 2022 is an accredited event celebrating the 25th anniversary of the establishment of the HKSAR. Supporting organisations of the event include the HKSAR Government and the Hong Kong Trade Development Council, and several local and East Asian chambers of commerce and business/professional groups have also participated in co-organising it. The Summit is sponsored by several organisations, including China Merchants Group, BOCI, HSBC, Sunwah Group, Glorious Sun Group, and Asia Insurance. Yuen Mo, CGCC's Chairman and Ricky Tsang, Connie Wong, Tommy Li, Johnny Yu, Herman Hu, Rock Chen, Tse Yung-hoi and Charles Cheung, Vice-Chairmen, have also sponsored the event as individuals or in the name of their organisations.
The Summit was held at the Hong Kong Convention and Exhibition Centre and broadcasted live online concurrently. Besides the aforesaid guests, speakers and CGCC's Office Bearers, participants also include Charles Yeung and David Fong, CGCC's Life Honorary Chairmen, Mainland and overseas luminaries, business representatives and government officials, representatives of the Central Government's offices in Hong Kong, foreign consulates in Hong Kong, heads of business organisations and professional bodies, CGCC's members, and friends from the media, totalling over 1,000 people online and offline.
In 2010, CGCC organised the first Hong Kong Summit, which was again staged in 2012 and 2017. The Summit aims to brainstorm ideas and form policy suggestions by bringing together ministerial-level officials, business elites, experts and scholars from Hong Kong, the Mainland and East Asia to discuss issues such as fostering further in-depth economic and trade exchanges and sustainable development in East Asia, as well as Hong Kong's role and function in promoting regional cooperation.
The Chinese General Chamber of Commerce, Hong Kong
17 August 2022
---
---