Hong Kong ICT Awards 2021: ICT Startup Award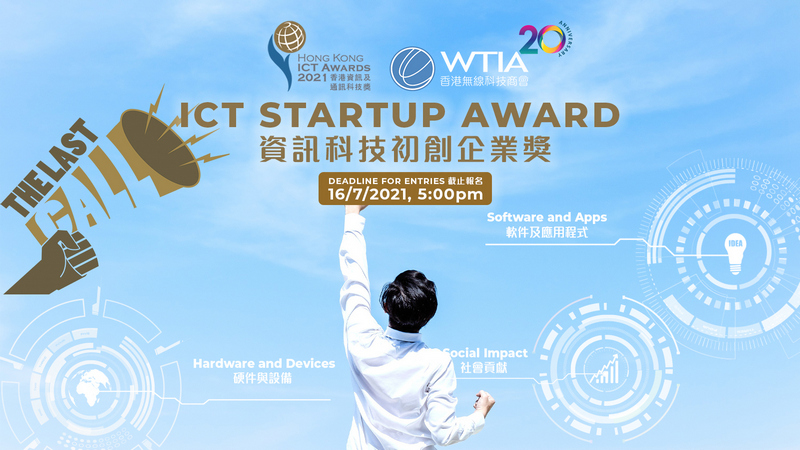 Application Deadline: 16 July 2021, 5:00 pm
Download the form: https://www.ictstartup.org/
-------------
The application window for the 2021 ICTStartup Award will be closed in less than 10 Days. If you wish your innovative products or services to be well recognised and acknowledged, here is your opportunity to demonstrate how good you and your team are. So let's grasp the chance before it is too late.
ICT Startup Award aims at discovering and recognising the outstanding local ICT startup companies which focus on software, hardware and social innovation areas and, reward their distinguished development based on its growth, innovation, creativity, functionality, market potential and performance. This year, the Award consists of THREE STREAMS: Software and Apps, Hardware and Devices and Social Impact. Applicants may choose either one of the above streams to apply for the Award.
--------------
Startups Q&A:
Q1: Is my company considered as a Startup?
A1:Companies that incorporated after 17 July 2016 according to its Business Registration with the Companies Registry or equivalent supporting documents.

Q2: The whole R&D process of the entry needs to be conducted in Hong Kong?
A2: A *significant part* of the innovation, design, research and development (R&D) of the mentioned ICT product/service must come from resources in Hong Kong

Q3: Could I take part in the Award if my company have participated before?
A3: Yes, as long as it fulfils the eligibility requirement.

Q4: What if the entry had previously won the Awards, could it enter the Awards again?
A4: Winning entries of the Gold / Silver / Bronze award in previous years of the HKICT Awards can enter the Awards again only if there is significant change or enhancement in the product/service.

Q5: Can an entry take part in all THREE award streams?
A5: No, the same application is only allowed to be submitted to a maximum of ONE award stream.

Q6: What documentation could serve as evidence for the 3-months operation proof?
A6: Documents such as delivery notes, invoices, public announcements, advertisements, internal announcements, etc.

Q7: Can a company apply for the Startup Award and other Award Categories at the same time?
A7: ICT Startup Award considers entry as a unit, an entry is only allowed to enter one Award Category.

Q8: This is my first attempt to enter the Award, what should I prepare?
A8: No Worry, there will be a Participants Briefing short after the closing of the application submission. Areas of attention
for applicants will be highlighted in the Briefing. Past Judges / Assessors and winners will be invited to share their views and experiences
Hope the Q&A section helps! Should you have any queries, please feel free to reach out. We are here for you!
--------------------
Don't hesitate, earn yourself an opportunity to participate in this event of the year.
Application Deadline: 16 July 2021, 5:00 pm
Download the form: https://www.ictstartup.org/
#WTIA #ICTA2021 #ICTSTARTUPAWARD #Startups #Awards
---
---